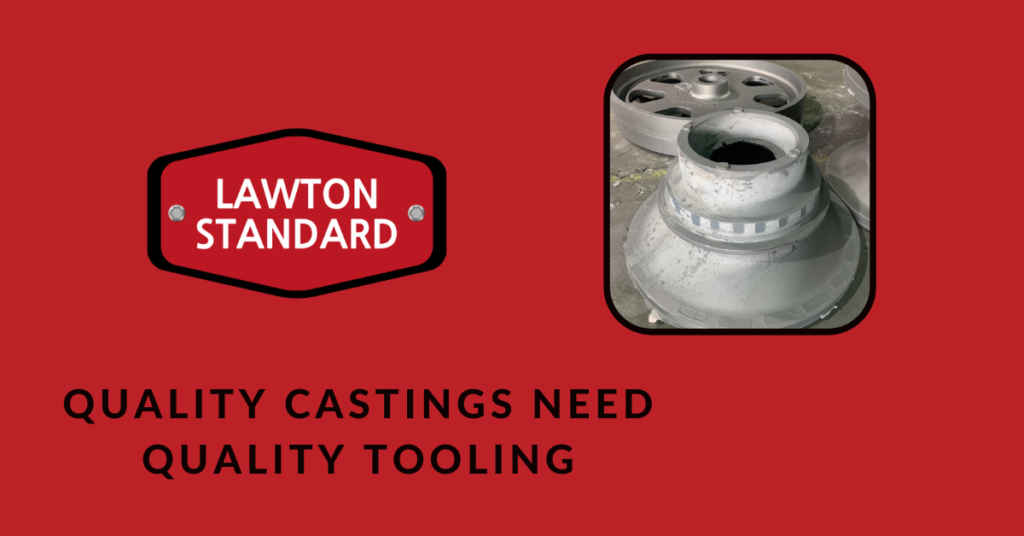 Tom Dominiczak, the Pattern Shop and Quality Manager at the C.A. Lawton Co. in De Pere, WI explains the importance of having quality tooling, how proper tooling should be designed for the foundry it plans to be used at, and how subpar tooling can affect the outcome of castings that the tooling was designed to manufacture.
There are many issues we see with tooling that indicate that the tool is either worn out, reaching the end of its life cycle, or becoming unusable for production, including cracks, poor storage practices including water damage, and previous patchwork and repairs. Issues with tooling oftentimes result in bad cast surface finishes on castings or problems with dimensional issues as compared to the specifications of the print or customer model. Oftentimes there are core-to-mold fit issues that can result in critical features being out of place.
The type of material that is used to make the tooling will affect the outcome and life expectancy. "Typically, the cheaper the material used, the shorter the lifespan, and the more susceptible it is to damage, which will not hold up to the manufacturing process," says Dominiczak, adding that "The customer may be replacing that tooling in half its lifespan than if they would if they just spent the money the first time using a more durable material. We use several materials at Lawton, depending on the number of castings needing to be produced. If the plan is for the tooling to be used for many years, it's best not to go with the cheapest material."
Sometimes we get transfer tooling from other foundries, or directly from a customer who owns their own tooling, which is often the most difficult to work with. A customer may have tooling that has only been used to make ten or twenty castings, but the issue is that it wasn't always stored properly. Storing tooling for large castings can be difficult, especially due to extreme weather conditions in facilities that often lack climate control. Environments that have a hot humid summer and a cold dry winter are not ideal for large casting tooling because of continuous expansion and contraction over time. "Many times, the tooling can become weakened, cracked, and in need of continuous repair as it pulls itself apart throughout the year because of the weather and climate," says Dominiczak.
The other problem that often arises with transfer tooling is that many were built at the lowest cost and are not designed to meet the higher standards and tolerances expected by the customers of the present day. "As downstream processes evolve, older tooling often does not provide a casting that will fill the expectations of modern-day machining," Dominiczak explains. In addition, if the tooling isn't refined for the current machine shop practices, it can result in lost time in the machining process. Modern tooling will provide a casting that to a higher tolerance resulting in a finished product that is more precise.
Transferred tools are also more difficult to work with because they were often constructed to be used at other facilities and each foundry does things differently, even if they have many of the same systems. We design and build our tooling to fit our specific manufacturing processes using information from best practices in all areas of the foundry along with design reviews that include our casting engineering department. We make it as user-friendly as we can to fit the form and function of the facility. "There are often different ways to design and construct tooling for every part that's out there, but the best way to build tooling is for the manufacturing facility where the castings are going to be produced. If you design and construct tooling for one foundry and then move it to another, the downstream facility may lose its edge," explains Dominiczak. Ultimately, it's up to the customer, but it isn't always the best practice for us to work with tooling that was not specifically designed for our facility because it doesn't flow through our process as well.
It's very important to have proper tooling because it affects the quality of the castings. Dominiczak explains that "The customer typically pays for and drives what we do, but if they do not want to invest in proper tooling the first time around, they may have to replace and repair their tooling much sooner than expected."